[70th TOPIK] Application Schedule Announcement
2020-02-10
The 70th TOPIK Guidelines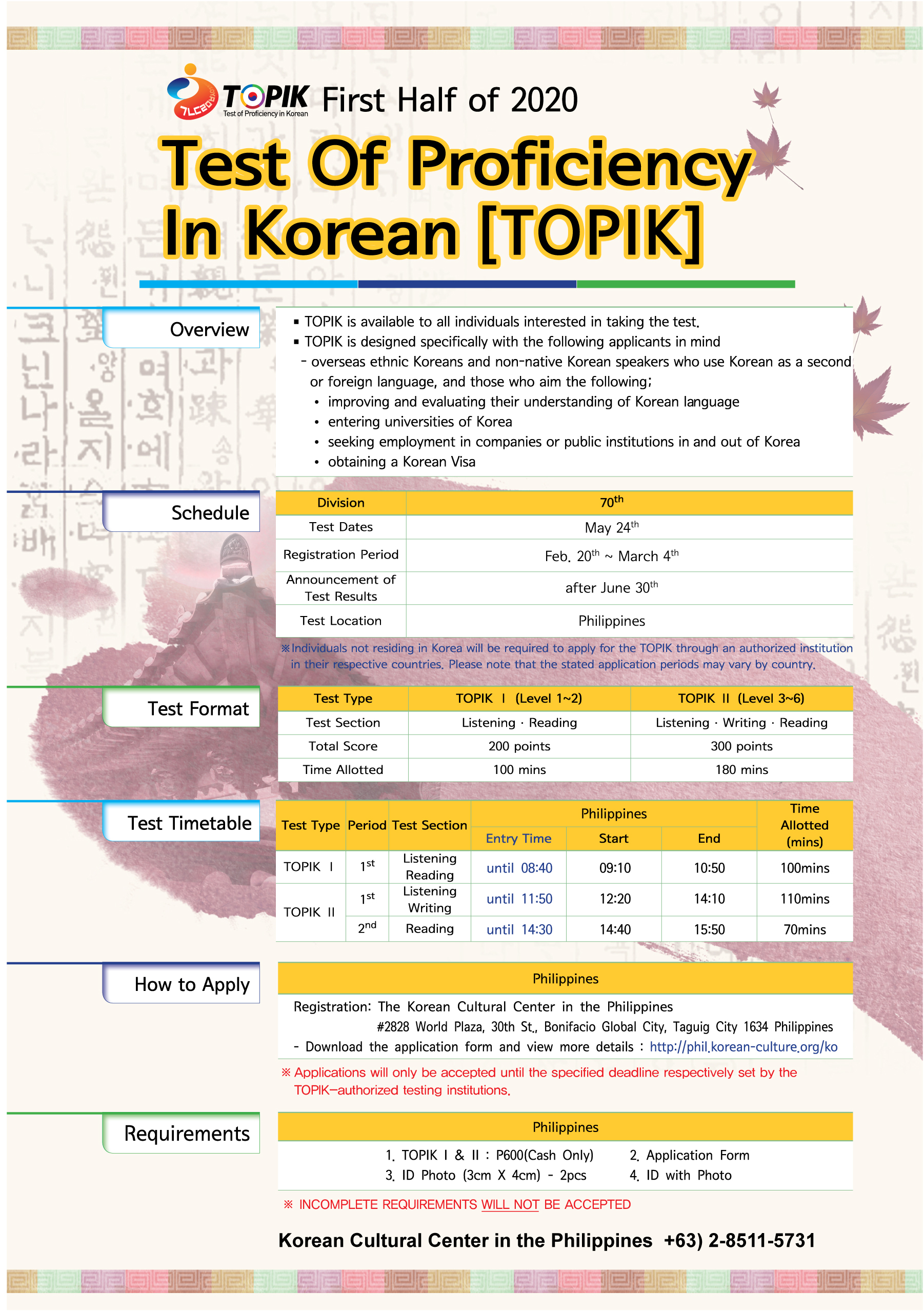 I. SUMMARY OF THE 70th TOPIK
1. Application Period: FEB 20 (Thu) – MAR 4 (Wed), 2020
- Time: Monday to Friday 9:00AM - 12:00NN, 1:00PM – 5:00PM
- FEB 25 (Tue) will be closed due to EDSA Revolution Anniversary
※ Please apply on time. We do not accept late application
2. Application Venue: Korean Cultural Center in the Philippines
Address: #2828 World Plaza, 30th St., Bonifacio Global City, Taguig city 1634 Philippines
Phone: (63-2) 8511-5731 | Email: kcc@koreanculture.ph
3. Application Fee: PHP 600 (Cash payment only)
※ Please note that application fee has increased from PHP500 to PHP 600 starting from the 66th TOPIK.
4. Examination Date: May 24, 2020 (Sun)
5. Testing Venue: University of the Philippines Bonifacio Global City
- Address: 14th Drive, University Parkway District, Fort Bonifacio, Taguig
6. Result Announcement Date: June 30, 2020 (Tue)
※ Testing venue and the date of result announcement can be changed depending on the circumstances
II. APPLICATION PROCEDURES
1. Download and print 70th TOPIK application form and application instruction at
http://phil.korean-culture.org/ko (TOPIK >> TOPIK Announcements)
2. Fill out the application form according to the instructions below, and attach 2 valid photos (3cm*4cm) on the application form.
3. Visit Korean Cultural Center with
ü Completed Appication Form
ü Two (2) 3x4cm photo
ü Original or photocopy of an ID
ü Testing Fee: P600 cash
(Time: Monday to Friday 9:00AM - 12:00NN, 1:30PM – 5:00PM)
4. After KCC staff says the application process is over, make sure you received the ff.:
1) Application(Identification) slip
2) Information sheets about 70th TOPIK.
※ Is it okay if I ask my friend or family members to submit the application form on my behalf?
- Yes. However, the person must bring your original or photocopy of your valid ID with other requirements.
※ My friends and I are applying for TOPIK together. Can we do the group application?
- If your members are 10 or more, you can do a group application. You need one representative who will fill out the group application form, and bring the original or photocopy of valid IDs of all the applicants and completed application forms with photos attached and other requirements listed above.
III. EXAMINATION DETAILS
1. Applicant Qualification: Overseas Koreans and foreigners for whom Korean is a second language
2. Examination time: 9:10 AM - 3:50 PM
(TOPIK I : Morning, TOPIK II : Afternoon)
Difficulty

Section

2nd Section

TOPIK I

1st Section

09:10~10:50

Listening/ Reading

( 40min/ 60min)

TOPIK II

1st Section

12:20~14:10

Listening/ Writing

(60min/ 50min)

2nd Section

14:40~15:50

Reading

(70min)
※ All examinees must arrive at the testing venue at least 30 minutes before the test
3. Please bring the following on the exam day:
• Valid ID (bring original copy of ID, with picture)
※ Examinees must bring the same ID attached on the application form. They cannot take the test unless they bring the original valid ID.
• Identification(application) Slip
• Writing instruments (optional)
4. Exam difficulties, levels, and evaluation areas
- Exam difficulties: TOPIK I, TOPIK II
- Exam levels: 6 levels (level 1-6)
Types of Exams

Difficulty

TOPIK I

TOPIK II

Level

1

2

3

4

5

6

Determination of level

80 pts

140pts

120pts

150pts

190pts

230pts
- Evaluation areas: TOPIK I – 2 areas (Listening, Reading),
TOPIK II – 3 areas (Listening, Writing, Reading)
- Score distribution: 100 points per area, 200 (TOPIK I) ∙ 300 (TOPIK II)
5. Result Announcement
- Announcement will be released at TOPIK official website(www.topik.go.kr) on June 30 2020.
- Copies of certificates can be printed for free at TOPIK official website.
※ For more details about TOPIK examination, check out TOPIK official website (www.topik.go.kr)
Attached file