'GUERILLA K-NIGHT 2019' RETURNS BIGGER AND BRIGHTER ON ITS 2ND YEAR
2019-12-06 | 242 Hit
'GUERILLA k-night 2019' returns bigger and brighter on its 2nd year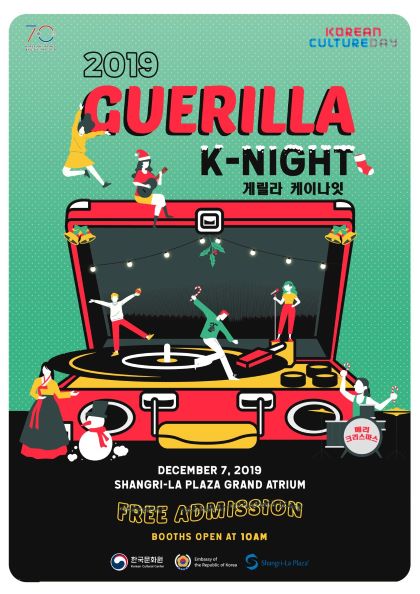 Korean Cultural Center in the Philippines and the Embassy of Republic of Korea will be closing 2019 with a bang through the one-night only cultural exchange event, "Guerilla K-Night 2019."
Also known as Korean Culture Day, "Guerilla K-Night 2019," which will be happening on December 7 at 4:30 PM at the Shangri-La Mall, is set to be the vibrant finale to the yearlong celebration of the 70 years of bilateral relations between the Philippines and Korea.
For years, KCC has been spearheading the diversification of the Korean culture in the Philippines by offering traditional activities and immersions, alternative concerts and contests, artistic events and exhibitions, unique film festivals, and other original events, on top of highlighting Korean pop culture.
Such can be expected from the one-night only cultural exchange activity, as it would showcase Korean and Filipino culture through music and performances of various contest winners namely Teenage, Mix'in, Yara, together with local independent bands Kremesoda and Any Name's Okay. Joining the roster of "Guerilla K-Night 2019" performers is the fast-rising Filipino idol boyband group trained by a Korean management, SB19.
Making the event even more special is the fact that KCC has invited We Are The Night, an independent synth pop band, to fly in and perform for the first time in the Philippines.
Apart from the rocking performances, guests may also visit the exhibit of Talk Talk Korea 2019, a global contest of Korea-related content that features various aspects of Korea, as well as various booths featuring Korean products at the "Guerilla K-Night 2019." Lots of games, raffle prizes, and giveaways await those who will be joining the event!
Made possible by the collaboration of the Korean Cultural Center in the Philippines and the Embassy of the Republic of Korea, together with Shangri-La Plaza, "Guerilla K-night 2019" is happening on December 7 at the Shangri-La Mall. Admission is free! Booths will be open starting 10am!
For more information or inquiries email, pr@koreanculture.ph or contact 8878-6319. Follow Korean Cultural Center in the Philippines on Facebook https://www.facebook.com/KoreanCulturalCenterPH/ and @kccphil on Instagram and Twitter for more updates about KCC's events and activities.
Attached file